100% Grass Fed and Finished Beef
Pastured Chicken, Turkey and Eggs
Welcome
We are David and Sandra Bunnett and along with our son, Jacob, his wife Noa and daughter Natasha, as well as our other son, Daniel, we want to welcome you to our farm family.
Our passion is healthy food and that is the focus of our farm.
Our animals are raised on pasture (in season) providing them a natural, healthy environment. We believe raising healthy, happy animals makes for the healthiest choice for all.
Connect With Us
Pork Ground Sausage - Gluten and Sugar Free
Regular price
$60.00 CAD
Sale price
$55.00 CAD
Unit price
per
Sale
Sold out
Share
View full details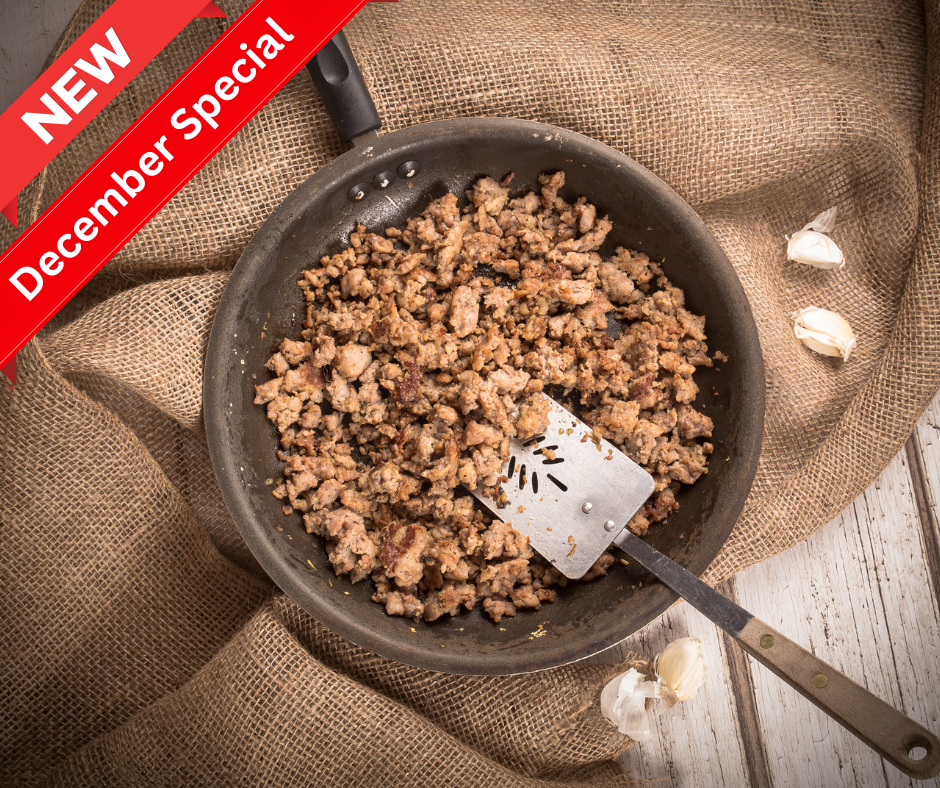 Where Our Product is Available
FREE SHIPPING ACROSS NEW BRUNSWICK*
with orders 30lbs or over.
SIGN UP BELOW TO RECEIVE UPDATES
Currently we offer deliveries at the following places and times:
Dieppe - 140 Canaan Drive 9:30-10:30 am on the 2nd Saturday of the month
Moncton - 1435 Mountain Rd at Sequoia Trinity 4 pm on the last Tuesday of the month.
Hampton - at Irving Station 5 pm on the 1st Friday of the month.
Pick up at the Farm available with prior arrangement.
*A few exceptions may apply.
SIGN UP
What Our Customers Say...
"I was lucky enough to find Green Meadows beef almost 20 years ago. Since then, I have not found any meat more flavourful or of higher quality. I've been cooking Green Meadows turkeys for Thanksgiving for close to ten years. Without fail, family and friends consistently comment on how the turkey is the best they ever had. Each and every time!  The respect and care Green Meadows puts into raising their animals is without parallel. The basic, natural pasture raising is as close to wild as a farm can get. The life of the animals, the quality of the meat and the respect for the livestock is the future. They remind us why the past is so important."

M. McGrath

Howdy 🤠 

 "I've been buying food from Sandra and Dave for what seems like forever. I can't remember the last time I bought pork, beef or chicken at the grocery store. 

 It taste better, it's superior in quality, their farming practices are the best possible and Dave and Sandra are two of the best people I know. 

 It doesn't get better than the Bunnett's"

S.Long

I feel really good about getting my meat from Bunnett Green Meadows!  I love the way they raise their animals.  I believe I am getting clean meat from happy animals.  I see the respect and care that Sandra and Dave put into their work and to me, they are one of the few who are doing it right.  I love the fact that I can ask Sandra how to cook a piece of meat I'm not familiar with and I love getting lard to cook with!  I'm thrilled to have them as my main meat supplier and will continue to support them as long as they are around.

N. Khosla
Our Guarantee to You
You may not have bought this much meat before at one time and you are wondering what happens if you don't like it. No worries, just like we want our animals to be happy, we want you to be happy too! If for some reason you are not happy with our products, just let us know and we'll refund your purchase, no hassles.This is our unconditional money-back guarantee. Be happy!